O skrzynce:
Skrzynka mikro, umieszczona wysoko. Zaznaczam, że skrzynka jest kontrowersyjna i wielu pewnie nie odważy się po nią sięgnąć. Dodatkowo dotarcie do niej może być niebezpieczne (zwłaszcza gdy jest mokro) dlatego zdecydowałem, że jej zaliczenie nie będzie wymagane do zdobycia finału projektu. Jak to powiadają "nie każdy kesz trzeba zaliczyć" ;-)
---
Stańczyk (zw. też Stasiu Gąska od staropol. gąska, błazen; ur. ok. 1480, zm. ok. 1560) – błazen nadworny Aleksandra Jagiellończyka, Zygmunta Starego i Zygmunta II Augusta, znany z ostrego dowcipu.
Zarówno imię, nazwisko, jak i przebieg jego życia pozostają nieznane, a daty urodzenia i śmierci niepewne. Pochodził z podkrakowskich Proszowic. Słynął z ciętego dowcipu, nie oszczędzał władców w ocenie decyzji politycznych (m.in. nt. hołdu pruskiego 1525). Przez to uważany był za wielkiego patriotę, człowieka wykształconego i zorientowanego na arenie politycznej.
Janusza Palikota można nazwać współczesnym Stańczykiem. Dlatego jego błazeństwa były inspiracją do powstania tejże skrzynki.
---
Skrzynka jest częścią projektu I Love PL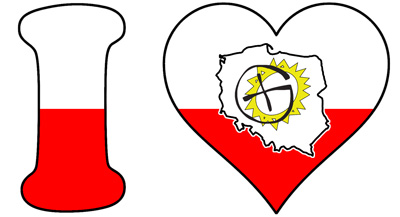 Opis skrzynki pochodzi z serwisu Opencaching.PL.