Droga szperaczko, drogi szperaczu - tego kesza założyłem specjalnie dla Ciebie poświęcając swój czas i pieniądze. Nawet jeśli nie trafia on w Twój gust, proszę - szanuj go. Podejmuj dyskretnie, odłóż w to samo miejsce dobrze maskując. Zadbaj o kesza i jego otoczenie
Niemcy tu byli byłem i ja ... coś po sobie zostawili, zostawiłem i ja ...Leży to to w lesie a przyroda zadbała o ukrycie tego miejsca i skarbu, który tam na Was czeka . Kto wie co poza keszynką jeszcze tam znajdziecie .. ja znalazłem maskowanie do kolejnego kesza hehe ;) Pozdrawiam i miłej zabawy.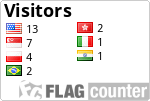 Opis skrzynki pochodzi z serwisu Opencaching.PL.