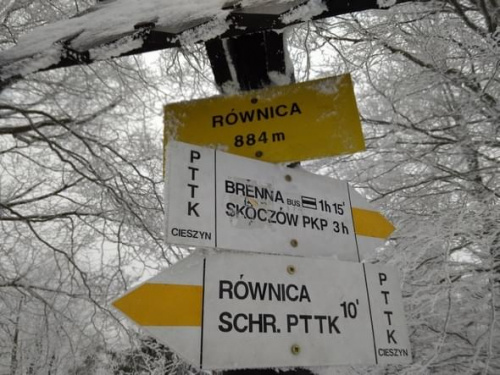 Nie leżący bezpośrednio na czerwonym szlaku - choć jest to pierwsza góra "Głównego Szlaku Beskidzkiego", to jej szczyt jakoś nie doczekał się kesza .
  O samej górze można poczytać przy keszu OP8PDG oraz w internecie , ale o górach się nie czyta ,góry trzeba zdobywać :) .
 Za każdym razem będąc w okolicy staramy się doczłapać aż na szczyt i będziemy to robić póki sił nam wystarczy . Was też zapraszamy bo choć szczyt jest zalesiony to przyjemnie jest tu posiedzieć i nic nie robić . (I niech nikt nie mówi ,że łapiemy tylko "drajwy")
Żeby zdobyć ten szczyt jak i kesza trzeba odbić z czerwonego szlaku i wspiąć się żółtym , choć my proponujemy zrobić małe kółko szlakiem niebieskim a potem odbijając dwa razy w lewo (dróżką pod górę) dojść na kordy, by w końcu żółtym szlakiem zejść w dół . Ścieżka łatwa i ciekawa ,jednak czas na zdobycie kesza zależy od tego w jaki sposób dostaniecie się na górę
Na wszelki wypadek dorzucam screen z zaznaczoną trasą ,ale zgubić się nie da .
Opis skrzynki pochodzi z serwisu Opencaching.PL.