Pierwsza nasza skrzynka, zakładana korespondencyjnie dlatego też pierwszych znalazców prosimy o kontrolę Pardity, która to postara się doglądać skrzynki w miarę powrotów w chińskie strony.
W parku w którym znajduje się skrzynka mieszka sobie smok, a raczej mały smoczek chiński który to skrzynki obiecał pilnować. Smoczek ten lubi pić wodę z pobliskiej rzeki i patrzeć na biegające ludki różnej narodowości. Parditę poznał przy okazji jej kolejnego pobytu w Chinach.
Koniecznie weźcie coś do pisania :) i bardzo prosze o wzięcie jakiejś gumki recepturki,Pardita nie miała a podobno warto nią umocnić skrzyneczkę żeby wieczko sie nie otwierało. Niestety certyfikatów brak, nie chcieliśmy Pardity przemęczać, wystarczy że w półmaratonie chińskim zajęła 279 miejsce na 8000. Zdolna Pardicina, pewnie nasz mini smoczek udzielił swojej całej minismoczej mocy.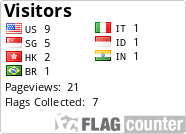 Free counters
Opis skrzynki pochodzi z serwisu Opencaching.PL.