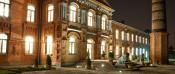 Odkąd kesz zmienił lokalizacje na prochownię, wzrasta trudność na 5. Prochownia jest ogrodzona (więc jest to teraz teren prywatny) aczkolwiek z jednej strony otacza ją targowisko miejskie (teren publiczny) na górze czekają jeszcze zapory z cierni ;). To tylko zabawa jesli nie czujesz sie na siłach nie ryzykuj....
http://www.royalhotel.pl/historia-twierdzy.html
Skrzynka w sąsiędzcwie Hotelu.
Opis skrzynki pochodzi z serwisu Opencaching.PL.